Homemade Pineapple Dole Whip Recipe – it's so easy to make the famous Disney treat at home!
The famous Disney Dole Whip
The original Dole Whip recipe—a swirled pineapple soft-serve dessert—enjoys somewhat of a cult following, with long lines of up to an hour at every location where it is served.
There's even an app to tell hungry tourists how long they can expect to wait!
This popular frozen treat is only available at a few select locations, the most famous being Aloha Island near the Tiki Room in Disney's Magic Kingdom.
As it is so difficult to come by, I've only tried a real Dole Whip once in my life.
Based on that memory of a smooth, creamy, chilled pineapple confection with a slight lemon tang, I've come up with my own homemade version of the Disney favorite that can be whipped up in your very own kitchen.
You may also like: Chocolate Peanut Butter Nice Cream
More Homemade Dole Whip Recipes: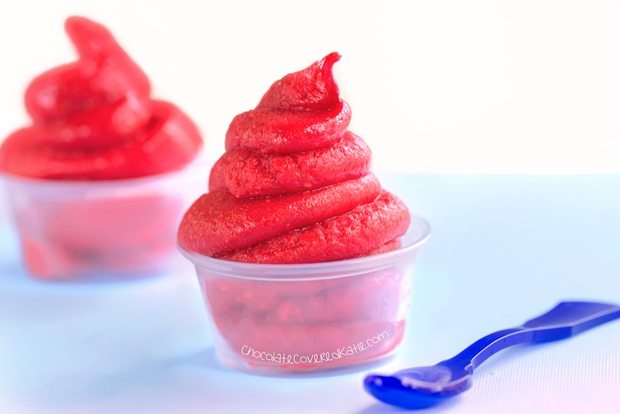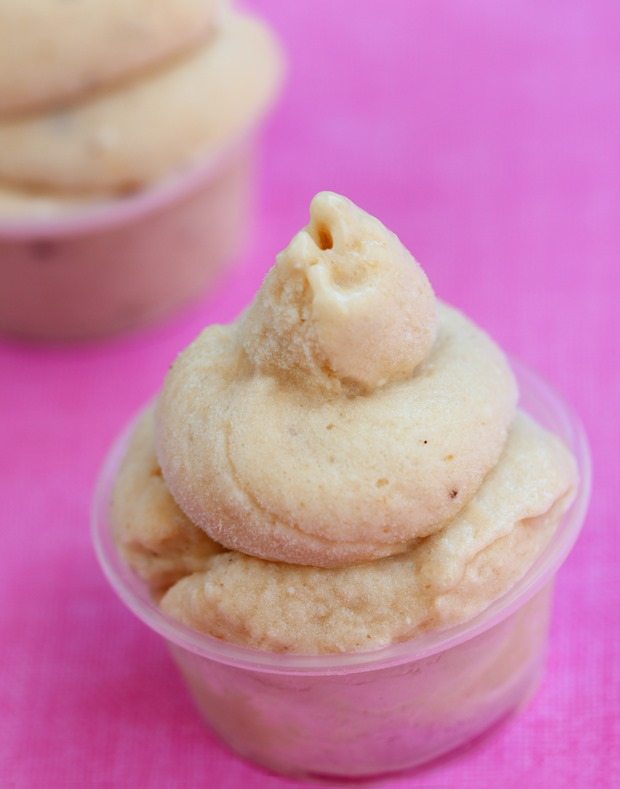 Apparently the demand for Dole Whips is so great that in 2013 they started selling it at Six Flags too.
And a note to vegans: surprisingly, Disney's Dole Whip recipe is vegan.
They recently reformulated the recipe, and the pineapple, mango, strawberry, raspberry, and orange flavors are all dairy-free and vegan.
Have you ever been to Disneyland or Disneyworld?
My favorite ride was always the Tower of Terror… but I was secretly terrified of it at the same time.
I also loved Splash Mountain, the Peter Pan ride, the Haunted Mansion, and getting to meet Snow White and Pluto (hey, I was five years old!).
Although I did love the soft-serve Dole Whip, my all-time favorite Disney food was definitely the cinnamon-sugar churros.
Churros are high on my list of things to try and make at home… don't be surprised if you see them on this blog someday!
(Watch the video of how to make Dole Whip, above)
How to make Pineapple Dole Whip
Blend all of the ingredients until smooth, using a blender or food processor.
You can either scoop out with a spoon or ice cream scoop, or fill a pastry bag and then pipe it out to achieve a swirly soft serve.
Both ways are equally delicious!
Leftover pineapple? Make Pineapple Pie

(For a low carb frozen treat, try this Keto Ice Cream)
Dole Whip Recipe
An easy homemade pineapple Dole whip recipe that tastes like the famous Disney treat.
Ingredients
Dole Whip Recipe
2

cups

frozen pineapple

1/4

cup

milk of choice

(Try canned coconut milk for piña colada soft serve!)

1/16

tsp

salt

pinch

pure stevia,

or 2 tbsp sugar of choice

scant 1 tbsp lemon juice
Instructions
Blend all ingredients until smooth. Scoop out with an ice cream scoop, or squeeze through a pastry bag, yonanas machine, or a plastic bag with an edge cut off. (If your blender is not super-powerful like a Vitamix, you may need to add a little more liquid and then freeze a bit before serving, or churn in an ice cream maker.) For soft-serve that holds its shape longer, freeze the swirled dole whip at least 20 minutes prior to serving. Makes 3 servings the size of the pineapple whip in the photos.View Homemade Dole Whip Nutrition Facts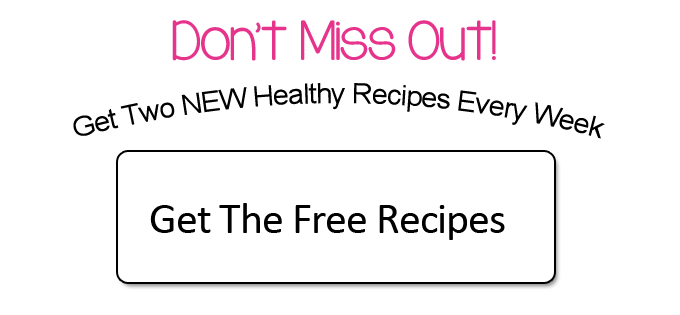 More Healthy Dessert Recipes
Healthy Banana Bread – Oil Free Option